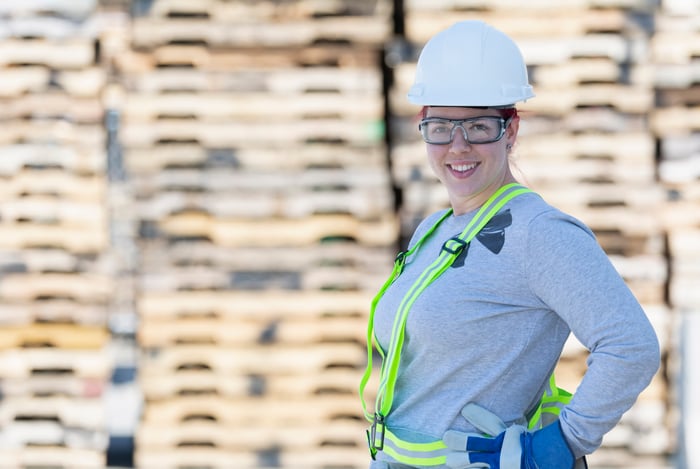 CAREERS
Join our Growing Team of 200+ Members
We Need You
We are always looking for talented people who want to work and want to work with us! Whether you are a seasoned trade specialist or new to the business, this is the opportunity for you to have the career you have always wanted.
Repair Operators, General Labour, Forklift Drivers. We are a diverse bunch.
That's why we need people like you. We need your passion, skill, intelligence and entrepreneurial spirit to drive our continued success. Tell us what you want to do at Paramount Pallet, and we will do whatever we can to make that happen.
If you are interested in joining our growing organization, we want to hear from you! Send your resume to careers@paramountpallet.com.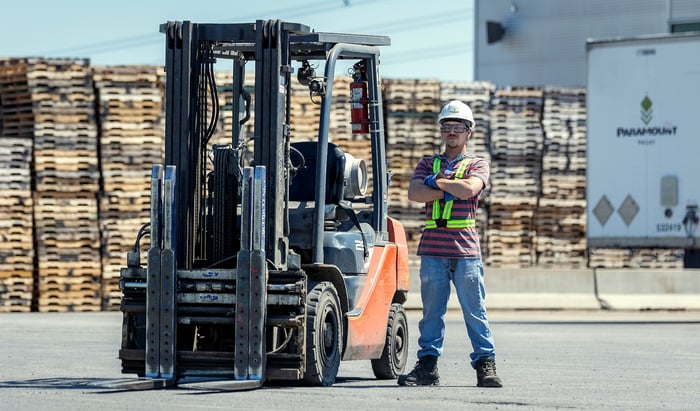 Our Vision
Paramount Pallet's vision is to continue to be the nation's largest and most dependable provider of complete pallet services.
Our Values
High Standards. Customer Excellence. People Count. Take Ownership. Embrace Change. Think Why Not. Be Diverse. Be Respectful. Be Kind. Be Safe.
These core values are the principles which guide us daily, values in which we take pride, with which we strive to distinguish Paramount Pallet as a leader in the pallet business. Such values for any business like ours is fundamental, where the connection between our people, customers, products and services are 'Paramount'.
Our value statement reflects on how we connect with our community and you. It is the framework of our success.
Our Benefits
Paramount Pallet provides a competitive health and dental benefit plan, vacation and a registered retirement saving plan (RRSP). We also provide PPE clothing and boot allowances as required for specific roles.
We also ensure that every employee has continuous technical and professional training to encourage learning and help them develop skills that will help them to grow in their role.
Available Careers
Repair Operator

The Repair Operator is responsible for the dismantling of pallets to obtain new/recycled components to be used in repair and delivering superior customer satisfaction. This includes, but is not limited to, inspection of pallets, sorting, repairing of damaged pallets and general warehousing responsibilities.

Dock Forklift Driver

The Forklift driver is responsible for safely and effectively offloading and reloading trucks as directed by immediate supervisor or the Order Service desk. This includes, but is not limited to, filling out a grade sheet, advising on the type of pallets being offloaded, signing documents as needed.

Production Forklift Driver

The Production forklift driver is responsible for safely and effectively handling the required number of piece work as set up by the supervisor. Forklift drivers are expected to bring pallets to the lines and workstations, and should leave with pallets or material bins as needed. They are also required to empty trash/wood bins in the correct bin in the yard.

Yard Forklift Driver

The Yard forklift driver is responsible for safely and effectively ensuring that the yard is a safe area and is neat and sectioned off according to the immediate supervisor. Ensures stacks are straight and not leaning over. Ensures no unauthorized pallets end up in the grind/crush pile.

General Labour

The General Labour employee is to deliver on the depots priorities including, but not limited to, inspection of recycle pallets, sorting and dismantling the pallet, and general warehousing responsibilities.

Coop Programs

We are always looking for support students in their educational efforts by offering them practical experience and coaching from our subject matter experts. Hiring students encourage us to continuously look beyond what we are doing now and challenge ourselves in how we do business in the future. Together, we all learn. The ideal candidate has a positive attitude, ability to manage time efficiently, and prioritize work.
OPPORTUNITY. INCLUSION.
Our Diversity
Diversity. Inclusion. These are our guiding principles on how we perceive our teams, respect our differences and embrace our common goal which is to work together, recognize our strengths, work hard and do whatever it takes to maintain our reputation as Canada's leader in the pallet industry.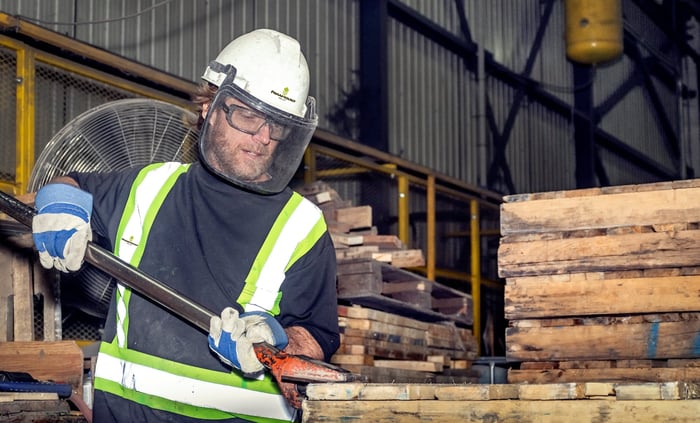 SAFETY IS PARAMOUNT
Health, Safety and the Environment
Paramount Pallet is proud to have a reputation for hiring quality people and setting high standards of business performance. To ensure continuity of our reputation, we must succeed in keeping our people and products, the public, and the environment in which we operate, safe from harm.
Paramount Pallet believes that safety is paramount, that maintaining a drug and alcohol-free workplace and in a respectful working environment, and minimizing work-related incidents are vital steps to ensuring that our environment, employees, and the families and communities that depend on them, remain safe and healthy. As an industry leader, this belief has been the foundation of Paramount Pallet's policy whereby safety is paramount with a goal for its operators of no workplace incidents or injuries. Our Safety Is Paramount program is a cornerstone in Paramount's efforts to achieve, and maintain, that goal.