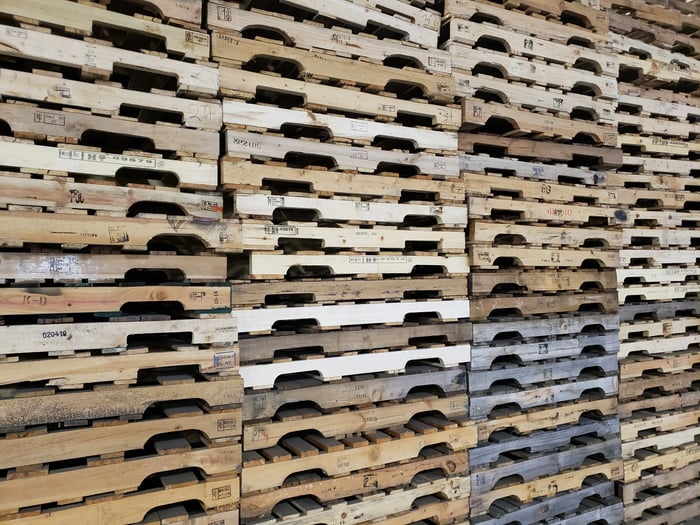 GET THE GUIDE
Why Selling Your Pallets Is A Good Business Strategy
Learn all you need to know.
Why Selling Your Pallets Is A Good Business Strategy
Chances are the pallets circulating through your business have gotten more attention as pressure on the supply chain industry continues. They play a vital role in your daily operations, but have you considered the additional benefits these wooden assets can provide to your business, and your image? Beyond implementing recycled pallets into your corner of the supply chain industry, Paramount Pallet also buys used, worn pallets from businesses like yours to further support demand—and your bottom line.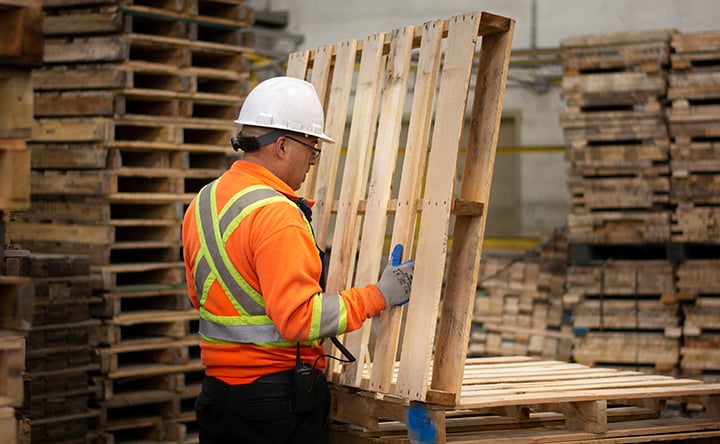 Selling your pallets is good for your business and the environment.
As Canada's only true pallet solutions provider, Paramount Pallet provides end-to-end pallet management services. This includes manufacturing new pallets; however, much of what we do involves buying pallets for recycling, repair, and reuse. Through these services we can help a growing number of businesses become more efficient and demonstrate their commitment to sustainability. Ultimately, selling your worn or broken pallets to Paramount creates a financial opportunity for your business while reducing waste.
Pallets that can be repaired and put back into circulation are carefully inspected and repaired to the highest level possible. We serve grocers, manufacturers, and distributors, including industries like dairy, beer, cement, and landscaping. However, when a pallet has reached its end of life, it is dismantled. The deck boards, nails, and other pieces that can be reused are salvaged while the remaining components are recycled for another use. From the wood to nails, Paramount utilizes or recycles nearly every part of your pallets. As an example, wood can be composted or turned into mulch.
Selling to Paramount Pallet is quick and easy.
If you're thinking about selling a few pallets or selling them in bulk, here's a brief look at how to sell your pallets to Paramount Pallet:
After determining your needs and the volume of pallets you're selling, we'll work with you on pick up at your site.
We will retrieve the pallets within 24 hours of your staff loading them onto trailers.
Upon arriving at our facility, each pallet will be graded based on its level of wear as it's unloaded from the truck.
Pricing for the pallets is based on grade level, which we will thoroughly explain and provide you with a detailed explanation of payment for your pallets.
Payment for your used pallets typically arrives within 30 days from the date the pallets arrive at our facility.
Know the value of your pallets before you sell.
Our pallet professionals will work closely with you to make the process of selling your pallets as easy as possible. The following outlines the core contributors for determining the value of a pallet: size, condition (grade), and location.
1. Pallet Size
The dimensions of the pallet typically have the greatest impact on its value. More common sizes that can be used in popular industries can be re-entered into the supply chain sooner while odd-shaped pallets could take more time to find a company in need of that size.
2. Pallet Condition/Grade
Following its dimensions, the level of repair that's needed is the next factor in determining a pallet's value. Using a standardized grading system, we can quickly identify and sort each pallet according to its current condition.
Premium Grade Pallets: Ready for recirculation with minimal repair.
Regular Grade Pallets: All will need to be examined more closely and repaired to include stringer repair to ensure performance.
Odd Sized Pallets: Common size pallets outside of the standard 48X40 spec that can be repaired and resold.
Scrap or Unusable: These pallets are typically taken apart and the pieces such as deck boards and stringers that are still usable are used to build custom pallets. Every component that cannot be reused as a pallet is recycled.
3. Pallet Location
Like most industries, supply and demand play a large role in the value of your pallets. If there are industries such as grocery stores, automotive parts distributors or other high-demand manufacturing or shipping operations in your area the value of your pallets could be higher. Further supporting your disposal and selling needs, Paramount owns and operates six facilities throughout Canada to make our services more accessible to businesses like yours.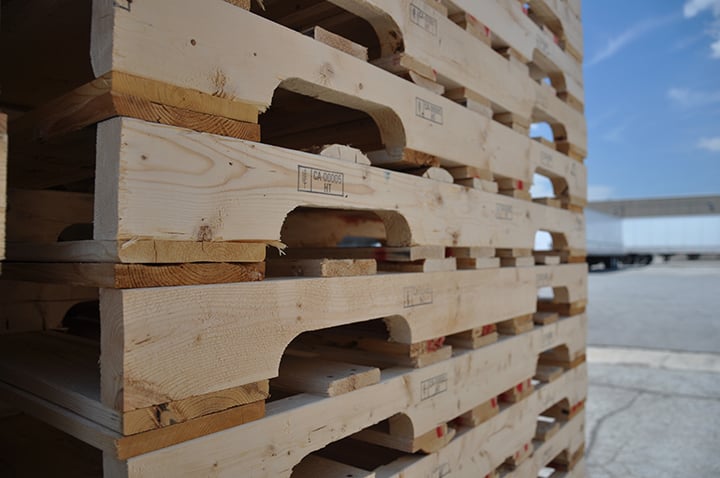 Get the most from your pallet sales.
At this point you have a better understanding of how your pallets can be sold and how their value is determined. Yet to get the most from selling your pallets, it's necessary to take a step back and look at the bigger picture for your business:
On average, a pallet will be recirculated seven times before needing repaired or replaced. Take a moment to picture its lifecycle:
The pallet is created (sometimes to unique specifications) and sold.
It is loaded with products, then into a truck and shipped to any corner of the world and brought back to your facility. This step is repeated multiple times.
Eventually the pallet will become worn and then either sold back to the pallet supplier or disposed of.
For those pallets sold back to the supplier, repairs are made, and it is returned to its place within the supply chain, moving goods as part of an ongoing cycle.
The third bullet in that series is key to understanding the opportunity you have as a business within the supply chain. Rather than disposing of pallets and increasing your waste or taking your staff away from key responsibilities, you can sell your pallets back to a pallet recycler like Paramount. Not only does this lower your waste and carbon footprint, but it also brings greater value to the supply chain industry by:
Increasing the availability of recycled or remanufactured pallets, which are in increasing demand.
Keeping high-demand products and goods on the move versus sitting in a warehouse or distribution center.
Reducing waste and deforestation that's required for manufacturing new wood pallets.
Selling your pallets to Paramount Pallet just makes sense.
As a business, you're constantly looking for opportunities to become more efficient and more environmentally responsible. Working with Paramount Pallet, you gain a partner with the tools to help you achieve both. As Canada's largest full-service pallet solutions company, we rely on our national network of six company-owned and operated facilities, 200 employees and more than 30 years in the pallet business to make selling your pallets easy and more sustainable.
In addition, we make it easier to maximize your pallet sales. As your single provider, we are designed and equipped to handle all of your needs—from nationwide pallet supply to retrieval, recycled to new and custom-built pallets, and more. Our team has the experience, knowledge, and services you need to get the most from your pallets while reducing your carbon footprint. Get started by requesting a quote or give us a call to talk more about how Paramount Pallet can support your operation.