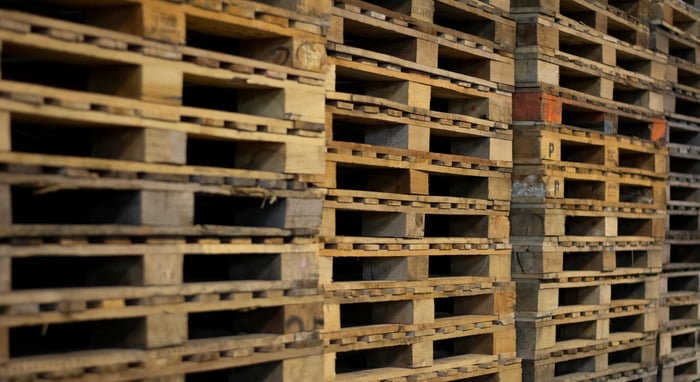 Let's Talk Pallets: Laval, Quebec Depot
Hear from Raed Bechara, General Manager.
Let's Talk Pallets
With more than 25 years of experience in the recycled pallet industry, hear from General Manager Raed Bechara about how the Laval depot is going above and beyond to service a broad range of customers from coast-to-coast.
Hello, my name is Raed Bechara and up to January 31, I was the CEO ofIndustrie de Palettes Standard and now I am the plant's General Manager. I have over 25 years of experience in the recycled pallet industry. I arrived in Quebec in1987 at the age of 16. I have a bachelors in biochemistry and a private pilot's license. Like I said, I've been working in the industry for 25 years.
Tell us about the Laval, Quebec.
The Industrie de Palettes Standard's facilities in Laval, we've been in Laval since we founded the business in 1997 when I bought out the "failing" business and I worked hard. We were a small company with a volume of just 3,000 pallets per week.
In 2013, we moved the plant following an acquisition of another 200,000 square-foot facility with a 40,000 square-foot factory. An investment of 7 million. We moved to 2400 Rue de Lierre.
We have a fleet of 65 trailers, about 40 employees, 75 models and sizes of pallets serving a broad range of customers ranging from automotive to food, and pharmaceutical industries.
We've been in Laval since the beginning and we continue to pursue our work in Laval even following the sale of the business and its acquisition by Paramount.
What services do you provide and what industries do you serve?
In general, at IPS, we provide for customers and suppliers, so the services we provide our customers, like I said earlier, we have customers in the food industry, automotive, pharmaceutical industry, printing and packaging.
We offer a turnkey service. That is, we will pick up scrap pallets, we will repair pallets if they have an internal fleet of pallets. So, we pick them up, inspect them, repair them and return them. Otherwise, we can sell them new pallets.
The strength of IPS is really the service, the quality and also the variety of pallets. We have 75 different varieties of pallets. Usually, in this industry, most companies offer six or seven sizes, maybe a dozen at most. We offer a wide range of sizes, and that's really one of our strengths. We will even go pick up particular items from clients including barrels, boxes, plastic, we'll recycle all of it. We strive to offer a "global" service for both our customers and suppliers.
Why should a company work with Paramount Pallet?
I try to look at it from the perspective of a competitor whois now part of Paramount. I think that Paramount, and the ways in which we currently work, and our strategy, is a family business at its core but more than that it's also a company that strives to provide a complete service for its customers. As we say in good French,"coast-to-coast" everywhere in Canada.
The acquisition of IPS helped us improve a service that wasn't fully fleshed out. The mix of pallets was one of IPS's strengths, when paired with the strength that Paramount Pallet has to offer across Canada. Provides not just a richness, but excellent coverage. It provides customers with a supplier who is reliable, who can handle large volumes and who can provide the service in Quebec, Ontario and across all of Canada.